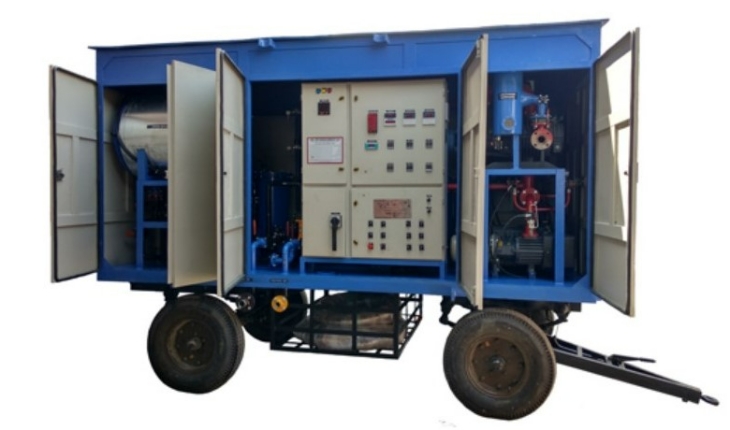 Oil Filtration & Regeneration Machines
We are a leading dealer of various transformer oil filtration machines, including the Double Stage Transformer Oil Filtration Machine and Regeneration Machines.This machine is designed to treat used transformer oil. It employs a heating process and passes the oil through a specialized filter. Vacuum treatment is then applied to remove moisture and gas, improving the oil quality as per industry standards (IS 335-1993 for new oil purification and IS 1866 for used oil filtering).
The machine features a double-stage degasification and two-stage filtration system. It operates under high vacuum and maintains a low temperature to ensure the oil meets the required purification standards. The machine is available in different flow rates, ranging from 500 LPH to 25,000 LPH, and can be customized based on your specific needs. It can also be mounted on a vehicle if desired. The machine adheres to the IS-6034-1989 standards and its latest revision. Additionally, we can provide testing equipment such as an Online Moisture PPM sensor, BDV test kit, Online Flow Meter, and a transformer evacuation system, depending on your requirements.
Designed for continuous operation in all weather conditions, the machine is reliable and durable. Most components are made of M.S. material. It comes complete with all the necessary parts for efficient and trouble-free operation. We ensure thorough testing of the transformer oil filtration system under the supervision of qualified engineers to meet the required specifications. Customers receive the system in fully operational condition. All components are robust, sturdy, and free from sharp edges or corners, prioritizing safety during use. The machine is designed for easy replacement of any defective parts.
As a dealer, we are dedicated to providing you with high-quality transformer oil filtration machines and excellent customer service. If you have any further questions or need assistance, please feel free to reach out to us!